Listen to Ann Rea's interview,"This Artist's American Life," with Alex Blumberg, of NPR.
---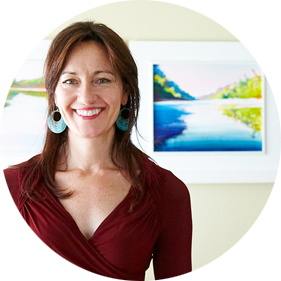 Artist Mentor Ann Rea's Mission
"My mission is to create a global community of over 10,000 artists who thrive, by 2027. Artists who are by securing their freedom through business savvy." - Ann Rea
In 2005 Ann Rea was an unknown artist who moved to San Francisco coast to become a full-time artist. She had no contacts, reputation or plan, but she had a goal to sell $100,000 of her art during her first year as a full-time artist.
Ann focused on delivering value above and beyond her art to her target market.
She fired her art representatives and sold $103,246 of her art during her first year as a full-time independent artist, without feeling like a sell-out.
Ann started to receive national press recognition and artists started coming to her for mentoring.
She defied tedious disrespectful and disempowering notions, such as;
"starving artist"
"artsy fartsy"
"art whore"
In keeping with a promise that she made to her artist mentors, Gregory Kondos and Wayne Thiebaud, Ann Rea became a supporter to a global community of artists through her blog, Artists Who THRIVE.
For over twelve years Ann Rea has taught a wide range of artists from across the globe. Artists with:
various creative disciplines
levels of experience
socio-economic backgrounds
She has identified patterns in artists. Artists often:
ask great questions but not in the right order
have confusion about business, sales, and marketing
hold self-limiting beliefs
experience isolation
feel a lack of support and jealousy among other artists
Ann Rea created The MAKING Art Making MONEY Semester.
This program teaches artists what they don't learn in art school and what they can't learn in business school, with the live support of peers and the guidance of an experienced and caring artist mentor.
---
Join Us
"If there is something you really want to do, do it now."  - Ann Rea, Artist Mentor